Your ads will be inserted here by
Easy Plugin for AdSense.
Please go to the plugin admin page to
Paste your ad code OR
Suppress this ad slot.
PLOT
Desperation (despəˈrāSHən) noun: A state of despair, typically one that results in rash or extreme behavior. The state of mind the human brain can only comprehend have begun to crumble around you–thus freeing the mind of rationality and sanity.
It's been a typical story–to have people stuck in the middle of nowhere–nothing but limited resources and a body of water surrounding them. "Survival of the fittest" is the name of the game—actually, the game is called BTOOOM!–and unfortunately, a group of BTOOOM! players both experiences and noob have been collected in person and thrown on an island for recreational purposes (on the creator's part).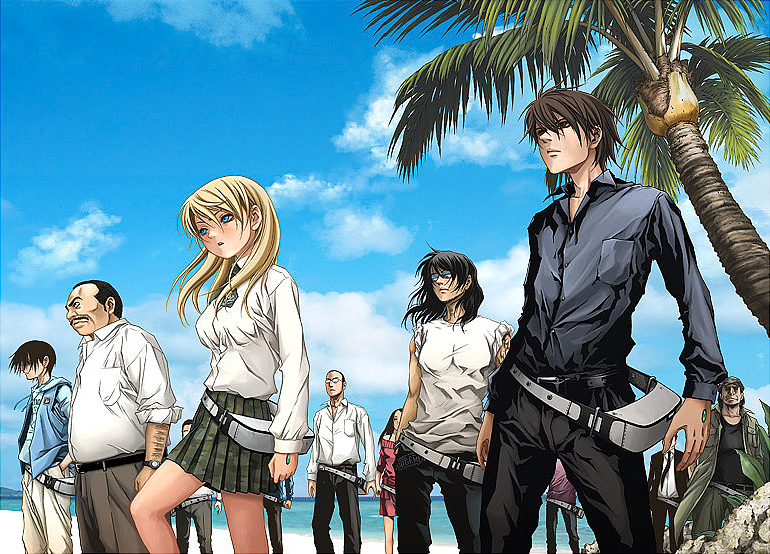 On this particular island, the 'players' weren't send mercilessly onto this island, but equipped with gear needed to survive such as food, water, ointment, and other necessities. In BTOOOM! the characters were equipped with bombs (a variety of bombs); on the island all the 'players' are also equipped with type of arsenal. In essence, these people were thrown onto the island for a reason–later explained, the game BTOOOM! is taken literally and every must kill in order to leave the island in one piece. There is no such thing as class or rank–in the middle of nowhere laws, etiquette, and social graces cannot protect you from nature–both environmental and human.
"Maybe there is a beast… maybe it's only us." ―William Golding; Lord of the Flies

[button url="http://" target="_self" size="small" style="blue" ]Animation 9/10[/button]
Of course, Boss man provided an amazing anime to review with animation that doesn't fail to entertain. As an island kind of setting, there are many different terrains the characters were able to encounter such as the highland parts, the deep forest, and near the ocean side. This created different yet unique scenes for the BTOOOM! characters to fight–kind of like different stages in different video games.
The different colors represented for a variety of scenes whether what kind of emotion or atmosphere is emitted. This mechanism does not fail to deliver the intended emotion. An example (unfortunately) would be when Himiko (girl protagonist) is about to be taken advantage (episode 2) of and the scene becomes dark red and eerie. A scene that emitted romantic lighting (episode 12) between Himiko and Sakamoto had various shades of blues but did not emit a cold feeling–more like a warm contrast for the characters and the emotion.
Your ads will be inserted here by
Easy Plugin for AdSense.
Please go to the plugin admin page to
Paste your ad code OR
Suppress this ad slot.
Of course fan service was delivered! (Poor Himiko) A hilarious scene I found entertaining (episode 10) when an ally of Sakamoto decides to betray the group and throws a BTOOOM! bomb which intricately bounces off Himiko's large chest. There is no simpler explanation for this–but the animations were as if it had been fram by framed slowly (it was funnier than it should have been). But hooray for comically relieving fan service!     Another point I would like to bring attention to is the use of a sonar–honestly such a device to be displayed is nostalgic if anything (games such as Assassins Creed or Socom). To represent it in such as way could not have been done better. Such a simple idea became so iconic and was even input into the opening.     Overall I feel that the animation was beautiful and I only wish this series continued until AFTER Sakamoto and Himeko exit the island.

[button url="http://" target="_self" size="small" style="blue" ]Sound 8/10[/button]
No Pain, No Game – [Nano] – weird as this may sound, if the song was adjusted to a lower voice frequency (to sound male) it would be very fitting. Nonetheless the song's fast pace and beat auto bytes are suited to be an OP for a story incorporating the videogame life. The OST of the anime held the suspensefulness-silence was held to build up tension and sparks into a techno frenzy. A scene I especially admire that displays this is when Sakamoto (protagonist ) and Kosuke, a juvenile delinquent realizes each other's ability and quickly gets into offensive mode with the bombs. The background soundtrack is prominent to the game vibe while still keeping a theatrical effect. There was a lot of English thrown into the opening for obvious reasons-it is a sign of emphasis.
"When you feel you've reached the last dead end What will you do to save yourself from fate?  Would you take a knife to your heart. Or would you rather break the fall and take defeat?" This quote is what it all comes down too. Starting with Sakamoto, he had nothing going for him but his time on the island progressed, his morality wore thin and his worthiness dwindled. As for Himeko (Sakamoto's wife in the game) had gone through a traumatizing experience back home affected her attitude towards people especially men. Her ability to survive and get off the island became less and less of a possibility (if it weren't for Sakamoto she was be dead). She even requested her death for the sake of Sakamoto claiming there is nothing left for her to live for. The quote in the song really does apply to our pairing. All in all–great OP.

[button url="http://" target="_self" size="small" style="blue" ]Characters 7/10[/button]
I would like to start off with an annoyance–Sakamoto (the main protagonist) has a very open ended personality that doesn't add up. At first he was just a simple 22 year old guy with no life and very little going for him. Right when it comes to being on the island (and the trip there) somehow his sense of right and wrong instantly changes. I figured it was probably because he just realized that killing someone in the game and in real life is different. I just hoped that the  transition could have gone smoother (besides Sakamoto killing his first victim). On the other hand, if it wasn't for his compassionate personality, Himeko (the girl with a traumatizing past and our leading lady) would not have transitioned the way she did. At first her sense for men was VERY guarded. The contrast was a bit cliché but necessary in order to push Himeko forward into the story. A character whom I personally enjoyed is named Kosuke (a juvenile delinquent) who was pulled into the game in the middle of a high profile trial. His evilness was especially crude but enjoyable to witness. The destruction of his father—sounding hateful of me but the man deserved it. My sympathies go out to Kosuke!
[button url="http://" target="_self" size="small" style="blue" ]Overall 8/10[/button]
Reading the book Lord of Flies gave a certain perspective on the attempt to capture the story. Human nature has become a mask when it comes to society and everything learned to fit in will be adapted. The laws of the jungle applied especially since they were in deep wilderness. Such a twist as well is that the only way off the island is to kill the other 'players'. Not only the will to survive meant finding resources and making sure there is a way to keep moving on, but to avoid very harmful situations that can REALLY kill you. How the inner insanity in everyone was unleashed when it came to greed, wrath, lust, and ect. it really hits home while viewing the true intentions of the human heart. In the end, we don't really know whether the two heroines made it off the island. But one thing's for sure–together they put aside their own needs in order to work together. For the pairing, their rationality climbed  a bit in order to take care of each other. It was a beautiful love story.